CBD oil is a food supplement made from hemp plants. The active ingredient in CBD oil is CBD, which is a cannabinoid.
Most people choose to take CBD oil orally, but did you know that CBD oil can be applied topically to the skin as well?
In this article we're going to give you a recipe on how to make your own CBD face cream, to incorporate into a 100% natural beauty regimen. This CBD face cream is perfect for vegans, cannabinoid enthusiasts, and zero-wasters!
What is CBD?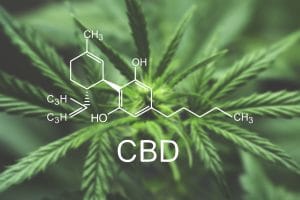 CBD (cannabidiol) is the active ingredient in CBD oil.
It is a cannabinoid, naturally occurring in hemp and cannabis plants.
Since CBD is extracted from hemp plants, which are naturally rich in CBD and low in THC, it is widely available in the UK and most parts of the world.
CBD preparations such as oils, pastes and balms are food supplements; meaning they are intended to be used as a supplement in addition to a healthy and varied diet and lifestyle.
Because CBD extracts are oil-based, they are super easy to incorporate into a natural beauty routine to give your skin a cannabinoid boost.
Related: What is CBD Oil? CBD Oil Explained.
Why make your own face creams?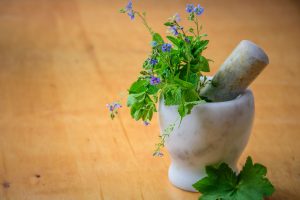 There are many reasons why making your own face creams is the future. Here we're going to outline the main perks to making your own CBD face cream and other homemade beauty products.
Cutting out plastic waste
For starters, in 2017, 6.3 billion tons of plastic ended up in landfill, the ocean, or littering natural habitats across the globe.
The New York Times published a story in 2018 outlining how even the plastic that goes into the recycling does not necessarily end up being recycled.
When it comes to our beauty regimens, this BBC article points out how much plastic we really use in the name of beauty without even realising it.
So making your own natural cosmetics at home helps the environment in a huge way. You eliminate or cut down on your plastic waste, becoming a part of a movement that is essential if we want to restore and care for our planet.
You can store your cosmetics in upcycled glass jars and sterilise them after they are empty, so you'll never have to throw any more plastic pots, bottles or tubes in the trash again!
More cost effective
A DIY beauty routine is also more cost effective in the long run, especially if you buy ingredients in bulk.
Ingredients such as shea butter, cacao butter, beeswax and essential oils are economical, especially when you buy them in large quantities.
At first, you'll spend more money to get the key ingredients you need, but you won't have to restock for months.
The average woman spends over $11,800 on drugstore creams, and over $197,000 on luxury brands in her lifetime. Whereas an entire kilo of organic shea butter costs under £10.
Chemical free beauty routine
Another huge bonus for making your own CBD face cream is that you know exactly what's going into it.
Anyone who has taken a look at the ingredients list on the back of their moisturisers, haircare products and makeup products knows that the long scary list of chemicals leaves one feeling as best bamboozled and at worst freaked out.
10 harmful chemicals to avoid in your beauty routine
Parabens
Artificial fragrances and colours
Phthalates
Triclosan
Oxybenzone
Diethanolamine
Formaldehyde
Polyethylene Glycol
Toluene
Sodium Lauryl Sulphate and Sodium Laureth Sulphate
If you make your own face creams, you are in total control of what enters your body through your skin. You have the power to choose substances that you feel comfortable and safe about using, without having to worry about any harmful chemicals such as these listed above.
Guaranteed cruelty-free
These days finding truly cruelty free products can be difficult. I personally go to PETA's official cruelty free list that you can check out here.
The good thing about making your own cosmetics is that you know for absolute certain that your ingredients are 100% cruelty free and/or vegan because you are making them with your own hands in your own home. You no longer have to put your trust in corporations that frankly haven't earned it.
…it's fun!
Making your own face creams, face masks, body butters and hair conditioners is a lot of fun. You can be experimental, and make bespoke, one-of-a-kind products for you and your family! It's also super simple, so kids can join in too.
How to make CBD Face Cream
Now it's time to learn how to make CBD face cream! This DIY CBD face cream recipe is super simple and quick to achieve.
The result will be a face cream packed with antioxidants, fatty acids, cannabinoids and essential vitamins and minerals, with absolutely nothing artificial in it.
Below we've outlined two recipes, a vegan and non-vegan version. The vegan version will have a different consistency to store-bought or non-vegan face creams, but will work just the same. If you want a more lotion-like consistency, then you can add 1-2 tablespoons of vegetable based emulsifying wax.
Related: The Difference Between CBD Oil and Hemp Oil.
DIY CBD skin cream recipe (vegan version)
Like we said before, unless you use an emulsifying wax for this recipe, the vegan version will have more of a balm consistency. It will work just the same as the non-vegan version.
We've added rosehip oil and carrot seed oil to our recipe to give the cream an anti-ageing boost!
Related: 10 Delicious Ways to Add CBD Oil to Your Diet.
Ingredients
35g of almond oil, jojoba oil or argan oil
15g cacao butter
5g shea butter
5 grams coconut oil
¼ teaspoon of rosehip oil (optional)
5 drops of carrot seed oil (optional)
10 drops lavender oil (optional)
30 drops of organic full spectrum CBD oil
Method
Place all ingredients into a glass bowl. Put the bowl over a pan of freshly boiled water (off the heat) and stir until all ingredients are melted.
When the ingredients have melted together, pour the mixture into a dark glass jar and store in the refrigerator to prolong shelf life.
DIY CBD skin cream recipe (non-vegan version)
For the non-vegan version, add 2 tablespoons of beeswax to the mixture and follow the exact same steps.
Where to buy organic, full spectrum CBD oil in the UK

At Aura CBD Oil UK we provide thousands of people around the globe with the highest-grade CBD extract nature has to offer.
Our CBD oils, pastes, balms and edibles are all 100% organic, full spectrum and whole-plant CBD extracts.
If you have any questions about CBD oil, don't hesitate to get in touch to get your important questions answered. You can email us at info@auracbdoil.com or send us a message on Facebook.
If you liked this article, be sure to check out our blog where we upload new content every week to keep you informed about the world of CBD.